We have optimized our talent profile to show you as much information as possible at a glance. Here you will find a summary of the most important changes.
📣
We have restructured and optimised the Talent profile!
What has changed?
You might have noticed we moved some stuff around, here's what changed in details:
We have removed the tabs "Files" and "Consent" and we have moved these information in other dedicated areas:

Files will be hosted into a dedicated card on the right-side, at the bottom of the column
The consent status will be shown in the top of the page into the main card

The main three actions (Edit Talent, Delete Talent and Create Reminder), have been moved below an "Actions" button, that will contain even more possible actions you can do on a Talent
Some relevant information (such as email address, phone number, social media URL, location, current job and current company) have been moved out from the "About" card on the right-column, and placed them into the top main card, to make them more visible. This change also has a positive impact on the right column that is not so extended anymore, making the information at the bottom of the page much more accessible.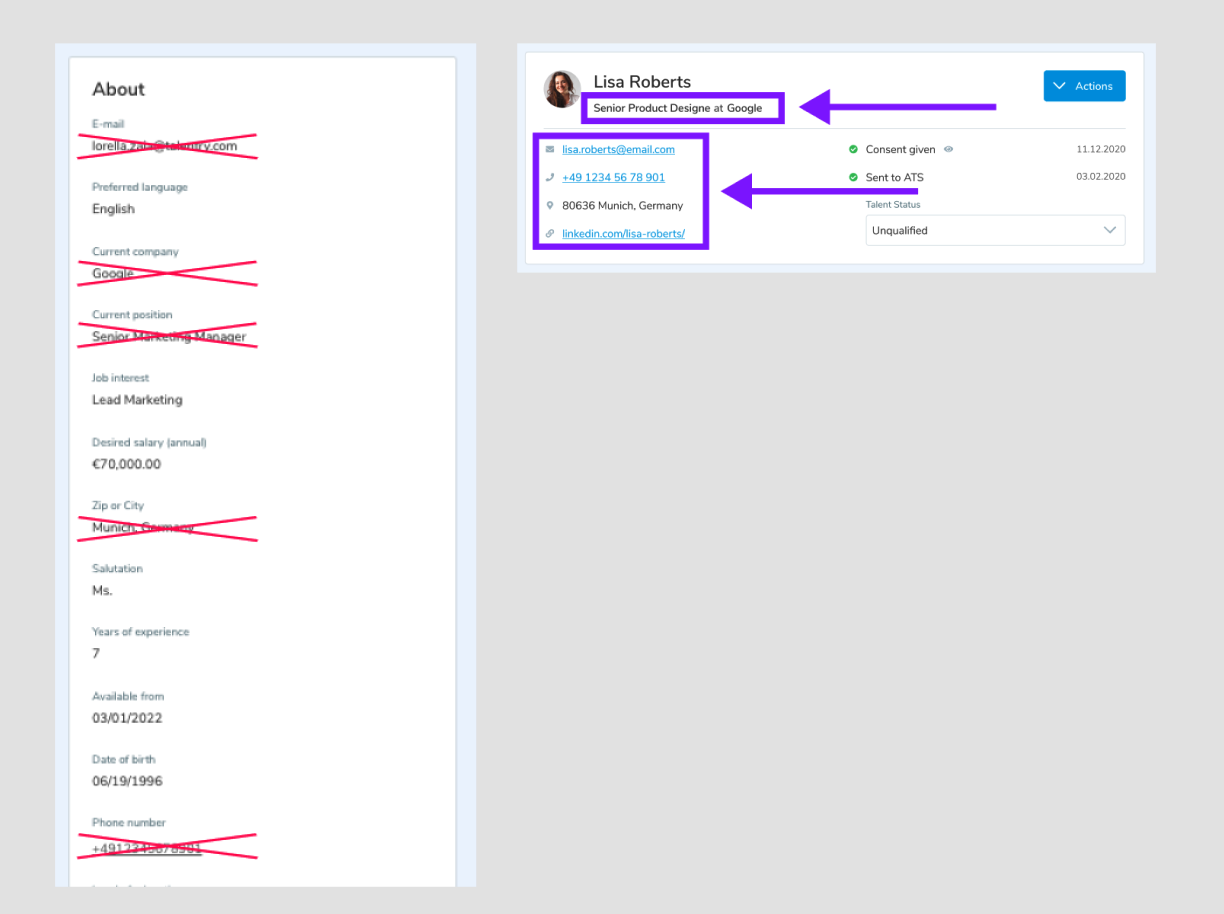 💡 In order for this "business card information" to be fully displayed, it is necessary to configure the talent profile view in the settings:
Settings >> CRM >> Talent Profile. Here you can select which fields are visible in the default view.
Talent Status, Tags and Pools are no longer in the bottom of the page, but occupy now a much more prominent position in the talent profile view
in the Talent Creation/Edit screen, we have now organised the fields in groups:
If the CV has not been parsed yet, our system will show the pdf document in preview. Is also this document missing, we will show the activity tab.
Education > collects all the information about Talent's education:

School
Type of degree
Field of Study
start / end date
Grade
Description

Attestations & Certificates

Name of the certificate
Organization issuing the certificate
Checkbox whether the certificate expires or not.
Depending on this, 1 or 2 date fields appear. Date of issue / expiry
Certificate ID
URL of the certificate

Knowledge & Skills

Free text field to add all knowledge and skills.
These are automatically taken over during parsing and appear in a smilar way of a tag on the talent profile.
They can be deleted again by clicking on the "x".

Projects

Name
Checkbox to indicate whether this is a current project
Depending on this, 1 or 2 date fields appear. Start / End date
Project link
Description

Languages

Add language
Level (A1, A2, B1, B2, C1, C2)
Changes in the Creation/Edit modal
💡 If you are experiencing issues finding some fields in the Creation/Edit modal, just make sure to have expanded all the sections of the page.